Portland riots have no goal except violence and anarchy
07/26/2020
(ANN) Portland OR - For 60 days, mass protests and riots have taken over parts of the city. Some streets and areas are literal "no-go zones" at night — either blocked by fires or teams of "guards."
Day after day, hundreds and even thousands take to the streets and claim the territory as theirs. They cycle through a number of chants like "All cops are bastards" and "F- -k the police."
A large number of them participate in violent criminal acts such as arson and assault. They've made it a game to lure law-enforcement officers out of buildings so they can assault them with blinding lasers, paint, rocks and other weapons.

Those who don't engage in direct violence cheer them on, assist in "de-arresting" comrades and act as cop watchers. Rioters try, and have succeeded in, breaking into Portland police facilities.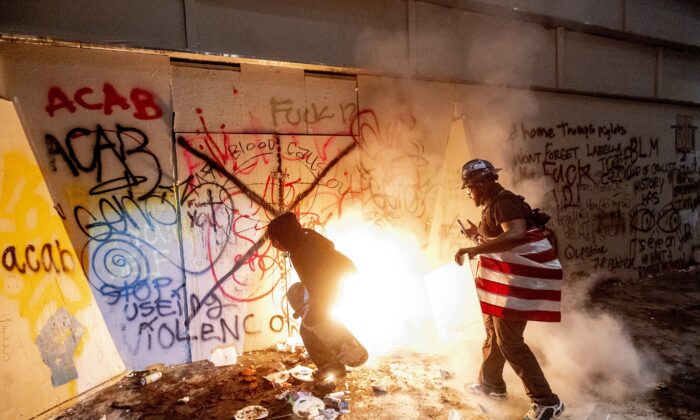 Rioters for the second consecutive night came equipped with electric saws and other items in their ongoing bid to take down the fence, which was placed around the Mark O. Hatfield Courthouse last week to try to de-escalate tensions.
Democratic city and state leaders claim federal forces are escalating the violence but the officers and agents appear to be reacting to criminal actions by the rioters, including damaging federal property and assaulting law enforcement.
U.S. Attorney Billy Williams, who announced charges against 18 for allegedly committing crimes during the rioting, told reporters Saturday that it was inaccurate to blame federal officers, calling the notion "an easy out for people who want to politicize this."
"This is just mindless violence and anyone who defends the violence is enabling this to continue," Williams told reporters while standing outside the building.
"These aren't late-night demonstrations. This is criminal activity," he added later.
RIOTERS BREACH FENCE AROUND US COURTHOUSE IN PORTLAND, PROVOKING FEDERAL RESPONSE
Authorities declared a riot early Sunday in Portland after rioters breached a portion of fencing erected around a federal courthouse.
The Portland Police Bureau said around 1:20 a.m. that "the violent conduct of people downtown" was "creating grave risk of public alarm," prompting the riot declaration.
Video footage showed federal officers responding forcefully after the barrier was taken down with a chain, firing tear gas and making arrests.
Portland police officers were also helping respond, a change from the bureau's extreme stand-off posture in recent days.
Some arrests were made, though it wasn't clear how many. As officers moved to disperse the rioters, some hurled projectiles like bottles and paint balloons at the police while others shot mortar-style fireworks at them.